How to Place an Order with us
We are not providing Pickup or Delivery services.

Why not? because:
-1. We want to keep our price competitive. Please let us allocate all our work force on what we are good at.
-2. We don't want to be responsible for the situations that we have no control over.
Bring it in!
Our store location is:

Doi Camera
250 Park Avenue
(on 46th Street, between Madion Ave. and Park Ave.)
(= corner of 46th Street and Vanderbilt Ave.)
New York, NY 10177
(212) 661-0876

Business Hours are here.
Order Form

Please download an order form and include with your order.


Fillable PDF form (download a PDF file, fill it out and print out)
Plain PDF form (download a PDF file, print out and hand-write the form)
Word form



By Messenger Service

Our delivery address is here.


Doi Camera
250 Park Avenue
(on 46th Street, between Madion Ave. and Park Ave.)
(= corner of 46th Street and Vanderbilt Ave.)
New York, NY 10177
(212) 661-0876

by FedEx or UPS (not by US Mail)

We strongly recommend FedEx or UPS over US Post service

Delivery Address (please use our order form):

Doi Camera
250 Park Avenue
New York, NY 10177
(212) 661-0876

Not sure if this is true only in Manhattan, NYC, US Postal Service is not as reliable as it should.
Postal people are nice but we are receiving many mails that are not ours at all.
Not only their service is unreliable, USPS does not have efficient tracking system.
US Post's Confirmation of delivery only means that the package has reached nearest Post Office.
There is no guarantee that the package was actually delivered to the recipient.
See details - What does delivery confirmation mean to USPS?
US Post might be cheaper than FedEx or UPS, but is it worth for irreplaceable precious memories?





How we return your order.

We offer a flat rate of $9.95 within the 48 contiguous United States standard ground.

1.
We will return by FedEx Ground.
2.
If you give us your FedEx account number,we will wave $9.95 charge (no handling charge either).
FedEx account only. We don't take UPS account, because no UPS store accept "corporate account".
3.
If you need Rush delivery, there will be an actual FedEx charge (no handling fee).
4.
For outside of the 48 contiguous US(including Hawaii, Alaska and Puerto Rico), there is a actual FedEx charge.
5.
No deliveries to P.O. Boxes, Army Post Office (APO) or Fleet Post Office (FPO).

US Postal Service's delivery confirmation - what does it mean?
Priority mail or First Class mail's "Delivery confirmation" proofs that the item was delivered to the nearest Post Office, not actual addressee. It will take another day or two to get it delivered to the actual address.
As it clearly stated on their web site USPS can't tell where and when it will be delivered.

Here is the quote from the USPS's web site:
" Delivery Confirmation only provides you with a Confirmation of the delivery date and time once the article has been delivered to the addressee's Post Office; it does not provide for any tracking through the mail stream. Without a tracking system affixed to First-Class Mail, we are not able to tell you where the item is within the mail stream or when it will be delivered.
If expected First-Class Mail or Priority Mail has not arrived within five (5) Postal business days from its date of mailing, you can call 1-800-ASK-USPS (1-800-275-8777) where a customer service representative will document your mail loss complaint, or you can visit the Postal Inspection Service Web site and complete a mail loss report.
Please note that if you complete a mail loss report, you will not receive an automatic response. If your First-Class Mail item is located, it will be returned to you. "
Therefore, we normally receive package one to two days after delivery confirmation was issued.
I don't know if this is a nice system, but that how it works with USPS.
If you want to use USPS with actual delivery proof, you must use:
1) Express mail
2) Certified mail with or without return receipt

Among all USPS packages, only Express mail is required package scanning.
In general, FedEx or UPS is better in terms of tracking functionality.
Payment Options
We offer two different options so you can make the best choice to fit your needs.
You can tell us your payment preference on your order from.

1. Credit card over the phone (we will call you and get your credit card info over the phone.)
or
2. Paypal invoice over E-mail.
Not familiar with PayPay? - see here to lean more about its safe payment system.
You don't have to let us know your credit card info - Because we are paid from Paypal (not from a credit card company),
we have no idea what kind of credit card was used, let alone its number, even after the payment was completed.
Paypal fee is on us, it does not cost you any extra to use this system.

You don't need to have a Paypal account or even don't need to create one.
You can safely pay for our Paypal invoice with your regular credit card.

Here is how it goes:
Once you receive our Paypal invoice, choose "Don't have a Paypal account" > Pay with credit card.

Select "Don't have a Paypal account"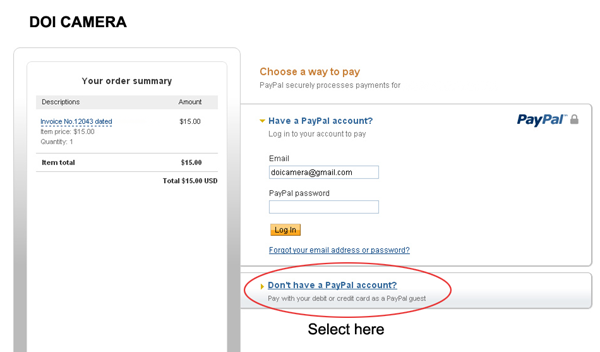 and select "Pay with credit card"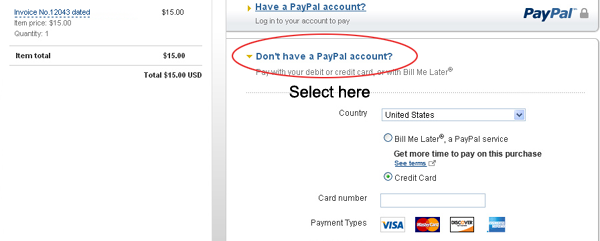 Doi Camera, New York, NY, USA
All Rights Reserved